Countertop Replacement
HOW DO I SELECT MY COUNTERTOP?
WHAT PRODUCTS ARE AVAILABLE FOR COUNTERTOP REPLACEMENT?
HOW DO I PREPARE FOR COUNTERTOP INSTALLATION?
HOW LONG IS THE COUNTERTOP REPLACEMENT PROCESS?
DO YOU OFFER A WARRANTY ON COUNTERTOP REPLACEMENT?
HOW FAR DO YOU TRAVEL?
Depending on your location, we will schedule an appointment at a showroom that's most convenient for you. You will be able to view slabs that are on display.
We can generally do any countertop, but the countertops we most frequently replace are Cambria (Quartz), Granite, and Solid Surface. If you're not sure which kind of countertop you're looking for, we can help you figure it out.
Remove all items from the top of your countertops and underneath the sink. Clear a walkway for our installers to get from the front door (or closest door) to your kitchen.
From your initial contact with us, the entire process from selection to template and installation can vary from three weeks to three months. The length of the process will vary depending on available selections at time of order, lead times of materials, responsiveness of communication, etc.
We offer a lifetime warranty on all seams. Most of our products are warranted, but the details vary from product to product. For example, Cambria comes with a lifetime warranty on materials (direct through Cambria) and seams, while the warranty for Solid Surface varies depending on the manufacturer.
We are located in Hartville Ohio, and routinely travel throughout the state and into Western Pennsylvania and Western West Virginia for residential projects. For commercial projects we have been to over 15 states throughout the Midwest and Eastern seaboard.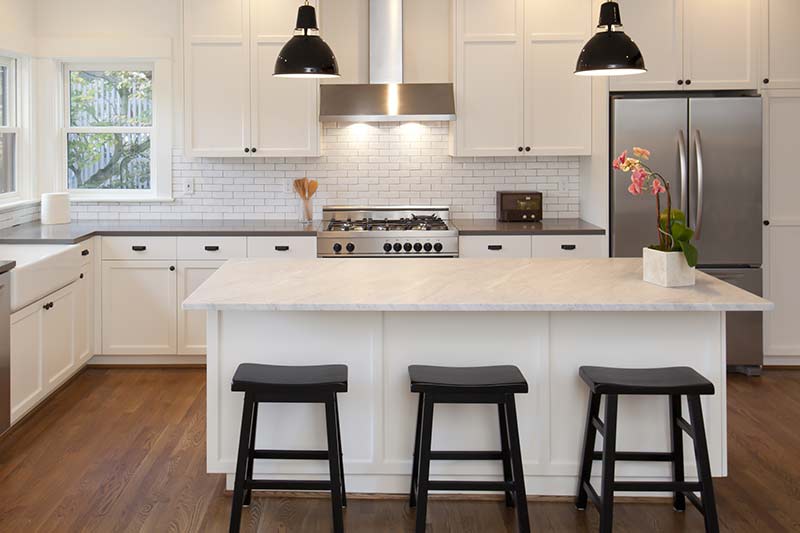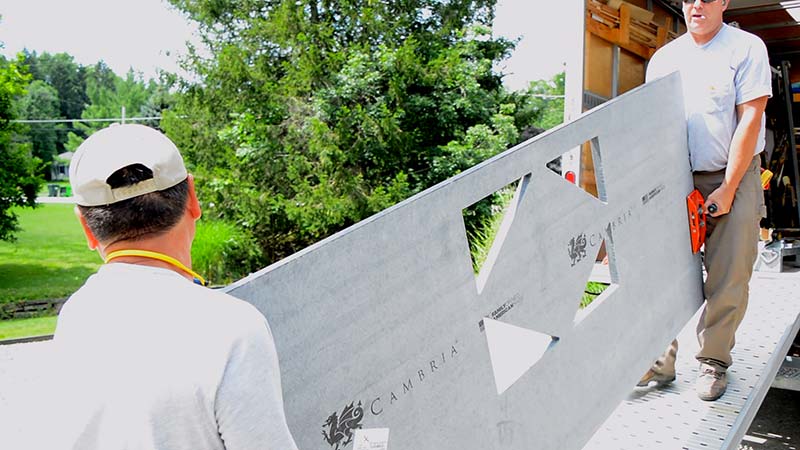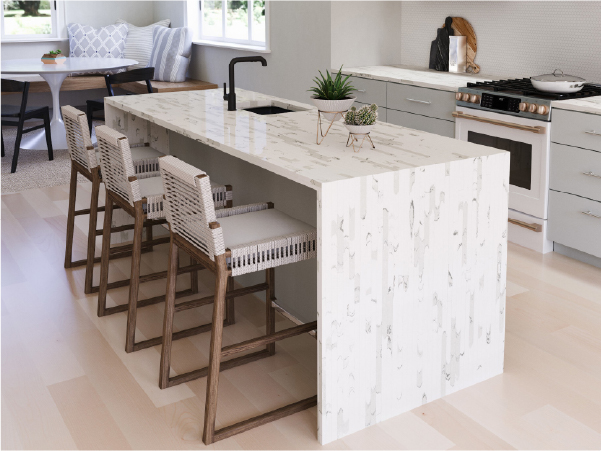 Commercial Countertop
WHAT DO YOU CHARGE FOR COMMERCIAL COUNTERTOPS?
WHAT IF MY COMMERCIAL COUNTERTOP LOCATION ISN'T INCLUDED ON YOUR MAP?
WHAT PRODUCTS ARE AVAILABLE FOR COMMERCIAL COUNTERTOPS?
WHAT'S THE MAIN ADVANTAGE TO CHOOSING TOP ADVANTAGE FOR COMMERCIAL COUNTERTOPS?
DOES YOUR INSTALLATION CREW STAY OVERNIGHT?
CAN YOU PROVIDE REFERENCES FOR PAST COMMERCIAL COUNTERTOP WORK?
This depends a lot on the material used, the design, the size of the order, and the distance we have to travel.
We have been to 15 states and are always looking to expand our range. If you've got a commercial countertop project and you're located east of the Mississippi river, don't hesitate to contact us to see if we can work something out.
For commercial projects we offer Cambria (quartz), Granite & Natural Stone products, and Solid Surface.
Simply put, we eliminate headaches. Many commercial builders turn to us after they have gotten burned one too many times by simply chasing the lowest price.
For most big projects that aren't located in the Northeast Ohio area, where we're headquartered, our installers will work long days and stay overnight to get the job done as quickly as possible.
Absolutely. We'd be happy to put you in touch with our commercial customers to hear what they have to say about us.